Introducing Enhanced Online Security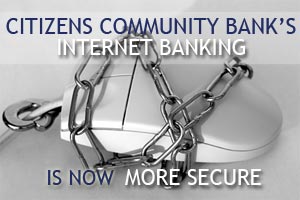 Citizens Community Bank is working hard to add additional security measures to our online banking services so that our customers have the confidence that their information is being protected.
Citizens Community Bank will be adding an additional layer of security that will change the way you log into our internet banking service. These changes will provide even greater levels of protection against fraudulent attacks such as phishing, spoofing, key logging and identify theft. All users will be required to select challenge questions and answers, select a unique image and create a personal description for the image that is only known by you. Each time you log in thereafter, the image will appear to verify to you that you are on the official Citizens Community Bankís website before entering your password. You will not have to select a new password during this process.

The final level of the new security is the authentication of your computer. Citizens Community Bank has the ability to recognize the computer or computers from which you usually log on. If our system detects a suspicious login due to an unfamiliar computer, it will automatically present you with challenge questions that were previously selected.

ONCE THE NEW LAYERS OF SECURITY ARE IN PLACE, GETTING STARTED IS EASY!

Step 1: Login using your User Code.

Step 2: Select a picture from the image library.

Step 3: Create a personal description to the image.

Step 4: Select your challenge questions and provide your answers.

Step 5: Select whether to register this computer. (Note: Only register personal computers that you frequently use and are not available for public use.)

Step 6: Select NEXT

The next time you log onto our internet banking service, Citizens Community Bank will recognize you and display the image and personal description you selected. If we donít recognize the computer you are using to log in, we will ask you to answer one of the security questions you previously created. After completion of the steps above, if you donít see the image you selected, exit the site immediately and notify the bank.